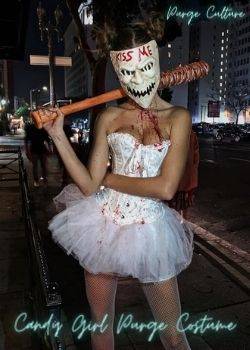 Candy Girl Outfit- The Best Halloween Purge Costume for Women
The bestselling purge outfit that our store has is the candy girl purge outfit. I mean, who wouldn't like to dress up as the coolest and badass female character in the movies. This costume can be a great choice for all the female audience who are looking for Halloween Purge Costume in 2020.
Also, there is a limited time 30% SALE going on currently for our Candy Girl costume. So if you are interested in it do check it out!
You can also choose to buy only individual products from the entire outfit if that's what you are looking for. For example, if you already have a white tutu skirt than you can still choose to buy specific items.